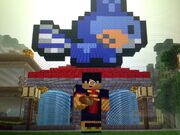 Hi, Im Jpw03 a Mod 
from Vox populI! :D Just wanted to give a little info about me! :) I'm 17, Assistant in Justitia (Wade and Molly's town), Play soccer, and minecraft often and love helping others.
Reason I joined vox
The main reason I joined Vox was it looked like a TON of fun! (Which proved to be very true.) It was my first server (with more then 3 people) and I didnt know much about mc at the start but with the great staff they helped me learn alot! :D And taught me so much that I decided I wanted to work hard and become a Helper! If I ever change staff positions I will likely try to become a Justicar.
Things I like to do!
Edit
Soccer
Minecraft
Watch soccer
Basketball
Helping in general 
Helping in Wades town
well thats a short summary of what I liked and if you wanna find out more, Join us at Vox Populi and all of staff are happy to talk/help with almost any of your needs :D Have a great day! :) Jpw03 (talk) 22:47, July 10, 2013 (UTC)
Ad blocker interference detected!
Wikia is a free-to-use site that makes money from advertising. We have a modified experience for viewers using ad blockers

Wikia is not accessible if you've made further modifications. Remove the custom ad blocker rule(s) and the page will load as expected.